Lazy Afternoon
The life and music of Jerome Moross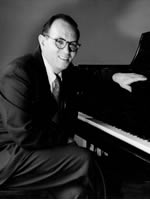 Score adapted and arranged by Jan Powell
Narration by Ken Stone
Lazy Afternoon explores the wonderful Broadway and film music of the highly underrated American composer Jerome Moross, remembered mostly for his film score to The Big Country and his Broadway show, written with his collaborator John Latouche, The Golden Apple.
Quite a bit of the music from five musicals and two films has rarely or even never been heard. The show is a treasure chest of gorgeous and engaging songs from the 1930s to the 1960s. The styles are varied and reflect the American sound of Moross, who was a protégé of Aaron Copland. This is a show that the audience will definitely walk out humming, singing, and shouting about.
Four singers, one pianist, minimal settings.